Allied Power's all-in -one ozone generator built in PSA oxygen generator which oxygen concentration can reach 90%, easy operation and installation, widely used in water treatment, pharmacy, food industry etc.
Features:
1.Special power supply, frequency rank 4KHz-20KHz.
2. High concentration ozone generation.
3.No need for regular cleaning or replacement of the electrodes.
4. Smaller size, larger ozone output.
5.Multiple abnormality protection for overvoltage, overcurrent, overloard etc.
Micro-gap dual discharge: Unlike traditional electrodes, Allied Power adopt Micro-gap dual discharge technique, using high strength borosilicate glass and stainless steel. It's diameter as small as 12mm, discharge gaps is 0.1-0.3mm only, without the need for fuses or coatings. No need for regular cleaning or replacement of the electrodes, to keep the machines running efficiency and enhancing the continuous operational safety and reliability.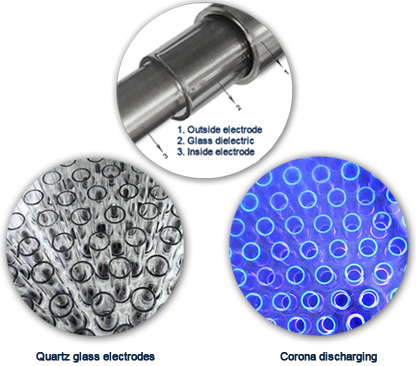 High frequency inverter: Allied Power manufacturers inverter over 10 years, owns three patents for ozone generator inverters. All Allied Power's ozone system uses high frequency high voltage power supply technology, which frequency can reach 20KHz, has low harmonic pollution and a compact structure. It's an improvement on medium frequency technology of traditional ozone generator. With high frequency and high voltage, ozone system will be operated more reliably and more efficiently in the long.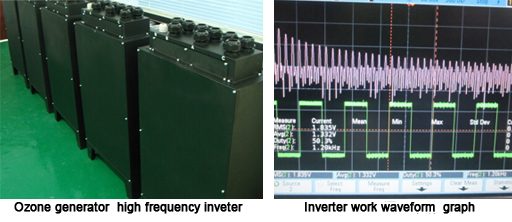 1. Frequency:4KHz-20KHz
2.PDF>9 Power factor>0.95
3.Automatic capture frequency resonance point
4.Microcomputer intelligence controller analysis and control system
5. First-class IGBT module
6. Soft start-up circuit designedNote:
1.The parameters are under circumstance of feed by oxygen gas.
2.For more Models and details, feel free to contact us.
3. Real products might slightly different from above description due to tech upgrade